Dedicated to the protection and preservation of Lake Basile and supporting community programs since 1954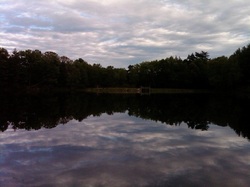 A service of the Lake Basile Association (LBA).


Lake Basile is located on the tri-town border of Granby, East Granby, and Simsbury, Connecticut and is accessible to the public from the Farmington Canal Heritage Trail (Rails-to Trails system) that runs parallel to Rt 10-202.


Please navigate the site to learn more about Lake Basile, its wonderful history and ecology, as well as some of the serious problems the Lake is facing and what we can do about it!
---
Lake News


2020: Hydroraking along select areas near the shore has been successfully completed in early Spring 2020! The specialized equipment was able to remove a large amount of accumulated silt and organic debris that had been choking up certain problem areas including the stream inlet over the years. This was a major project and took many hours of effort and privately funded expense of the lakeside residents. In addition to this special project, we will be contracting out for the standard annual treatment of the lake for excessive and invasive aquatic weed growth in late spring/early summer.

Do you live in the Lake Basile watershed area and want to get involved with your community or otherwise would like to support this important cause and stay informed about neighborhood activities? Please consider formally joining the Lake Basile Association! Reach out to us via email if you have any trouble finding the links to join.

Website: www.lakebasile.org
Email: info@lakebasile.org
Mailing Address: P.O. Box 531, Granby, CT 06035
Find us on Facebook! Look for the Lake Basile page as well as the Lake Basile Association group page
​


---
Click on the button below to make your tax-deductible contribution today! (You will be directed to Paypal's secure site)
---
Mailing Address:
Lake Basile Association
P.O. Box 531
Granby, CT 06035
Questions? Email us at
info@lakebasile.org
"Like" us on
Facebook
!